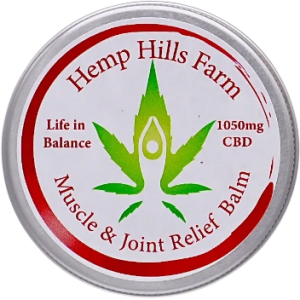 When we started our CBD company, I wanted to learn more about how CBD can be used topically. I wanted to make a CBD balm that worked instantly to relieve joint and muscle soreness. The science behind CBD being topically applied, is its anti-inflammatory properties. The CBD becomes absorbed into the epidermis and pores. And it begins to work with the cannabinoid receptors found in the skin.
I also started reading about other natural ingredients that help with pain, so I started adding natural pain ingredients to the CBD and trying different combinations. I will list the ingredients that are in The Hemp Hills Farm Muscle and Joint relief Balm and give a brief description of each one, what it is good for and why it will give you maximum relief.
Muscle and Joint Relief Balm Ingredients:
Arnica: Arnica helps heal wounds, relieve pain, and soothes bug bites.
Camphor oil: Camphor oil has anti-inflammatory properties which help relieve irritation, itching and pain.
Menthol: Menthol helps to give skin the sensation of cooling and helps to reduce pain
Capsaicin: Capsaicin helps relieve muscle or joint pain caused by strains, sprains, arthritis, bruising, and backaches. Capsaicin works by decreasing a certain natural substance in your body that helps pass pain signals to the brain.
Peppermint: Peppermint soothes inflammation, irritation, and itchiness, and is used to help heal wounds, and soothes bug bites.
Eucalyptus: Eucalyptus has anti-inflammatory and anti-bacterial properties, and helps with skin irritations, soothes bug bites and is a muscle pain reliever.
Tea tree oil: Tea tree oil Is an antiseptic, antibacterial, and anti-inflammatory.
Frankincense Oil: Frankincense oil restores the epidermis; calms affected areas and rejuvenates skin.
Shea butter: Shea butter reduces inflammation. Shea butter is rich in triterpene, a compound that reduces pain and inflammation.
Jojoba oil: Jojoba oil has anti-inflammatory properties which helps heel chaffing and chapping, reduce redness, helps treat eczema and rosacea, and keep skin calm and comfortable. The Vitamin E and B-complex vitamins in the Jojoba Oil help in skin repair and damage control.
Coconut oil: Coconut oil hydrates, helps to protect skin, minimizes the look of fine lines and wrinkles, calms temporary redness, provides antioxidants, and is absorbed easily into the skin.
You can feel the warming action at work! This balm is easy to apply when muscles are fatigued or when joints are in pain! It is great to use before and after working out. It allows you to apply at the source of your pain to help fight inflammation and recover faster. Hemp Hills Farm Muscle and Joint Relief Balm is a strong, effective, reliable aid that starts working quickly.
Find our line of CBD Topicals HERE.